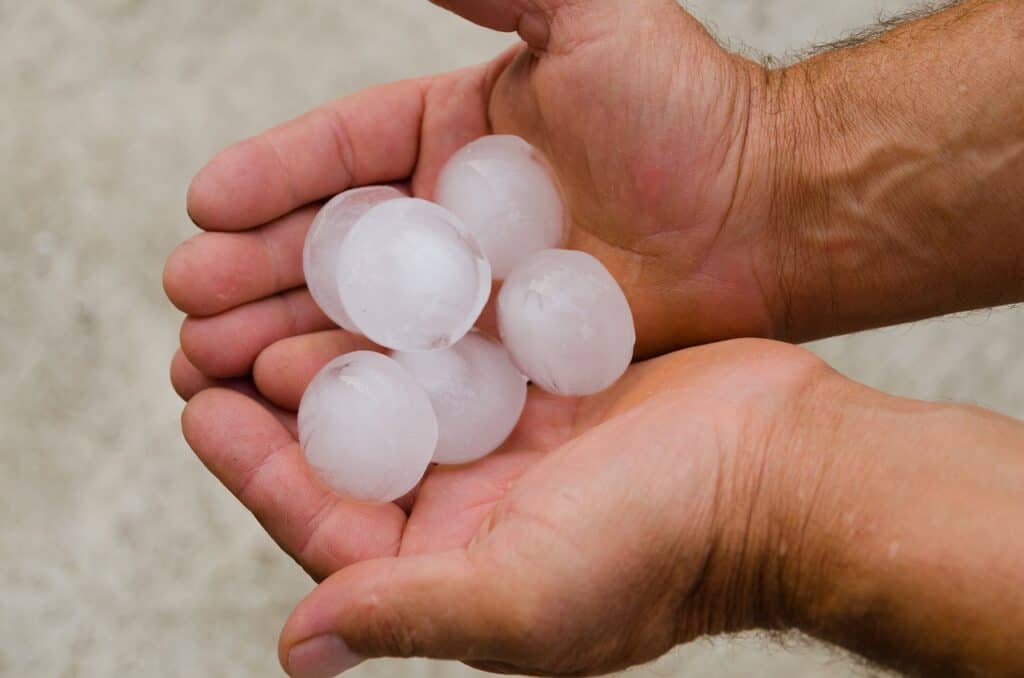 In this episode of Beyond the Studs, Josh Gauwitz spoke about storm damage here in Wisconsin. He also covers when it's smart to have your home inspected, insurance claims, an the importance of doing your homework when choosing a company to work on repairs from storm damage …
Recently, some pretty severe weather hit southern Wisconsin, and even in the far eastern parts of Sun Prairie you could hear sirens going off when it occurred. It was pretty crazy. 
What I'd like to do is talk about how a homeowner can proceed in the event of storm damage, so the people in our community are prepared when this kind of stuff happens. 
To begin, you need to know what type of potential issues you should be looking for after a storm. Obviously, there may be clean up of branches and debris, but what about your home itself?
This last storm at the end of July had 70-mile an hour winds, and there were reports of baseball sized hail in areas. And then to top it off there were massive amounts of rain, which we haven't had that much of this year, so the ground is extremely hard (and non porous) — which can put a home's basement to the test.
With this type of weather comes the potential for damage to a home. The good news is that a visual inspection is not hard, but you've got to take the time to do it to ensure things like your roofing and siding are OK — and these are two of the most important things to check after a storm. 
Have any pieces of siding been ripped off or bent? Have any of the shingles on your roof been moved out of place, or damaged by hail? If, like last week, there is heavy rain, how is your gutter system — running smoothly, or clogged with debris from the storm coupled with the heavy rain? These simple inspections can be done by the homeowner, and if they see anything that's potentially worrying, that's when it's time to call in a professional.
Conversely, not everybody is comfortable getting up on that roof and inspecting their shingles themselves. And if they're not, even if they just think they may need a new roof and there hasn't been any storm damage, we're still more than happy to walk that roof and show them everything firsthand, and of course take photos.
We offer free inspections at Legacy Exteriors, so homeowners don't have to worry about paying for us to stop by and examine the home. So, if you think you possibly might have had some sort of damage to your home, you can make a phone call to us and we will send somebody out to fully inspect every area of your home to make sure that you are in good shape. And, if nothing needs to be done you're good to go. But if there IS damage, we take pictures of everything, bring it to your attention, and we can also help you with the insurance claim process. And we can walk through all those steps with you. That's how we operate in a nutshell, and I think it's the best, most ethical way to proceed when working with homeowners.
Speaking of insurance companies, homeowners can sometimes feel overwhelmed trying to deal with them and "talk the talk" of an insurance person. That said, we talk that talk every day! We work with the same computer software as they do for filing claims and writing up estimates for repairs — so we understand each and every line item. We understand if there's something missing from the insurance company's estimate, and can point it out. Essentially, we will help homeowners get everything they need to get their home into pre-storm shape. Part of our job is making sure that everything is being done that needs to be done for that particular home. 
Also, it's important to watch out for people canvassing your neighborhood, going door to door and soliciting. They may try to sell you on a  new roof, siding, gutters — whatever it may be. But it's really important to do your homework because there are these storm chasing businesses that go door to door to our neighborhoods here in southern Wisconsin, and some of them may not even be here, meaning they don't have a physical location here. That's not a good recipe for a long-term partnership with someone to service your home when it needs repair or a renovation. Speaking frankly, how are they going to be there for you when you need them if they're not part of your area?
You definitely want to pick a contractor that's going to be there for you now, and in the future, in case there are any issues that come up, or if any warranty claims arise. In other words, you need to do your homework — and ask questions — to make sure the company you hire is going to be here for the long haul.
Regarding storm damage and timing, every homeowner should know how much time they have to report damage to their insurance company and make claims. Because sometimes people may not see the effects of a storm on their home right away.
Usually, there is an expiration date on getting the repair work done. And that date depends on your insurance company and the policy you have. So, I always tell people, if you think you've had some sort of storm damage, there's just no reason to wait, get it inspected. And be sure. And if it is damaged, then we can start that claim process — which is typically not a fast process. We'll schedule and meet the adjuster at the home and go over the home together. 
Then, it takes a few weeks for the estimate to get back to you, which needs to be reviewed carefully to make sure it's all good. And if any changes need to be made, we make them so it's not this quick turnaround process.
A good example of not seeing damage immediately is when it comes to roofing. If there's a storm and it causes a leak, you're not going to see that leak in the inside your home until the damage is pretty extensive. Right? So you want to make sure you get this checked out right away — and if you're hiring someone who performs free, thorough inspections you have nothing to lose.
One other thing to be wary of is when a company offers a free inspection, and then they come out to your home and get really aggressive trying to sell you on having them do the work for you. One way of avoiding this is looking at Google reviews. That said, if they show up and start the hard sell, thank them for their time, let them know you're not interested and walk away. It's your home, and your money, so you decide who gets to work with you. Just be prepared to say no to the pressure.
Sometimes, when we inspect a home, the roof may have a lot of granular release, and it may be time for you to have a new roof. Unfortunately, it wasn't due to storm related damages. We still take pictures, bring it to the homeowners attention, and answer whatever questions they have. I keep bringing up photos because we believe that the homeowner deserves to actually see what's going on regarding their home.
With us, and hopefully with whomever a homeowner hires, we never want anyone to feel pressure to do anything. Our goal is zero pressure, and long-term relationships.
That brings us to the end of this episode of Beyond the Studs. If you have questions about storm damage, or anything else, feel free to contact Legacy Exteriors anytime.
Listen to this episode …