ENJOY THE OUTDOORS ANYTIME OF YEAR WITH A FOUR SEASONS SUNROOM
Transform your home with a Four Seasons sunroom!
Great for everyday enjoyment — as well as holidays and family gatherings — these sunrooms are a fantastic way to enjoy the outdoors even during the colder Wisconsin months.

Adding space, sunlight and value to your home, these sunrooms and solariums are customizable to fit your lifestyle and design sense — so whether you prefer traditional or contemporary, we've got you covered.
WHICH SUNROOM IS RIGHT FOR YOU?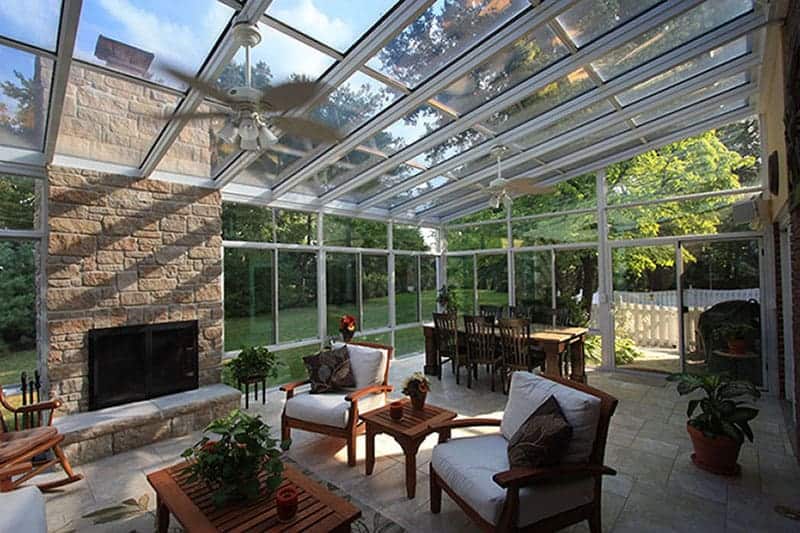 SUN & STARS SUNROOM STUDIO ROOMS
Four Seasons Sun & Stars Sunroom Studio Rooms literally bring the sun & stars into your life — while you're still indoors. Enjoy panoramic views of your landscape, and the sky, with an energy-efficient, durable Sun & Stars Sunroom!

Choose from the All Seasons Studio Room (pictured), as well as aluminum and wood interior options.
SUN & STARS CATHEDRAL ROOMS
Famous for their stunning ceilings, a Four Seasons Cathedral room is a breathtaking way to add light into your home, or gaze at the stars. These energy-efficient sunrooms offer a peaked wall that welcomes light, provides greater views, & creates a more spacious feel.

Choose from the All Seasons Cathedral Room (pictured), as well as wood interior options.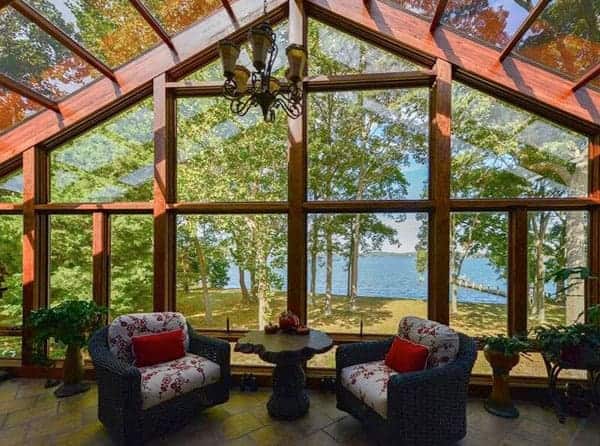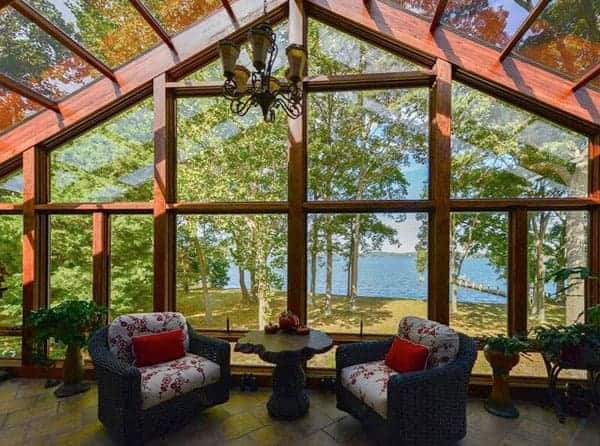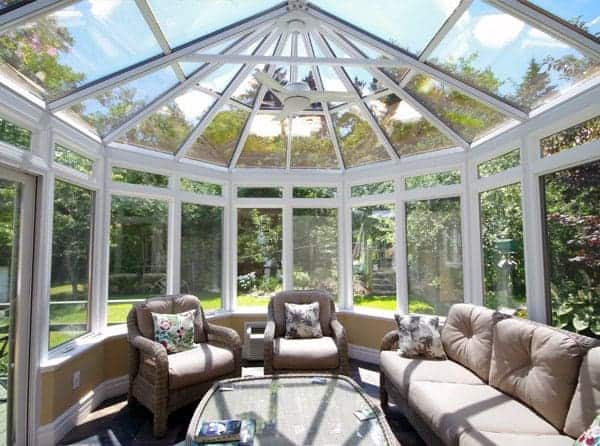 CONSERVATORY SUNROOMS
Four Seasons conservatories are masterpieces of the English-Style Conservatories — where classical design and contemporary construction combine for the ultimate in all-season luxury living. They're also energy-efficient and virtually maintenance free.

Choose from ornate Victorian conservatory designs, or stately Georgian conservatory models, in a broad selection of sizes and formats.

CURVED EAVE SUNROOMS
Curved eave sunrooms provide a refined aesthetic, creating a graceful symmetry that complements your home's existing roofline. Beautiful design that watches the bottom line, these energy-efficient sunrooms delight with natural light and energy efficiency.

Choose from a contemporary aluminum profile, or the warm natural feel of Northern white pine beams.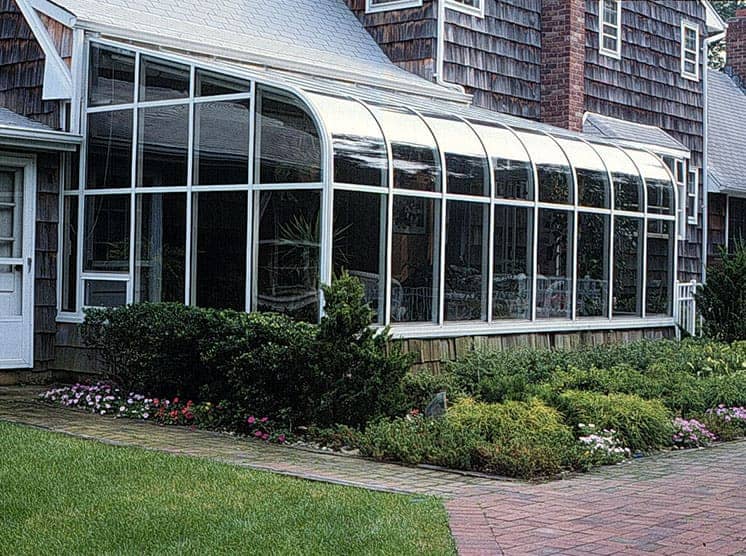 BENEFITS OF DESIGNS BY FOUR SEASONS SUNROOMS
Conservaglass™ NXT with Stay-Clean Technology
Four Seasons Conservaglass™ NXT was designed specifically for the extreme demands of a room built entirely of glass utilizing the most advanced glazing technology available. Conservaglass™ NXT helps make our sunrooms cooler in summer and warmer in winter — even here in Wisconsin. And, its advanced construction techniques promise a lifetime of outstanding performance.
Space (and Light), the Final Frontier
Sunrooms are an excellent way to add more natural light and additional space to your home.
Bring the Outdoors Indoors
Enjoy the beauty, serenity, and energy of nature with one of our Four Seasons sunrooms. Our sunrooms allow for the enjoyment of the outdoors, 365 days a year, without having to deal with bugs, rain or the extreme bitter cold of the Wisconsin winter.
Improved Quality of Life
A new sunroom creates a space where family can comfortably gather for special occasions, and every-day living! From morning coffee, to star-gazing, a Four Seasons sunroom can enhance every moment.
Curb Appeal
A Four Seasons sunroom brings additional beauty and also increased value of your home.
Easy Construction
Clean, efficient construction is one of the trademarks of a Four Seasons Sunroom. Unlike traditional "brick and mortar" room additions, a sunroom addition can be built quicker and with less disruption to your life and home.