TRANSFORM YOUR BACKYARD INTO AN AMAZING BUG-FREE SANCTUARY
Four Seasons LifeRooms allow you to enjoy the sights, smells — and the breeze — of the outdoors without the bugs.

Custom built over your existing patio, LifeRooms are constructed of lightweight, durable aluminum that's easy to maintain. They provide homeowners with many benefits including fully-automated, high-visibility screens that can be raised or lowered at the touch of a button. And, any of our Four Seasons LifeRooms can be upgraded to a three-season room at any time.

From entertaining, to celebrations, to elevating everyday moments, a LifeRoom is a perfect way to enjoy nature, relax, and get respite from the heat, sun and bugs.
TYPES OF LIFEROOMS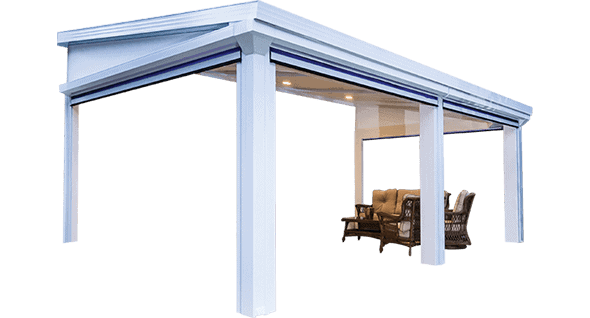 STANDARD LIFEROOM
Our most popular LifeRoom is equipped with motorized screens that work independently of each other. Skylights and recessed lighting is also included in our Standard LifeRoom package.

Additional benefits include, LED lighting and a variety of colors to choose from. Custom sizing is also available.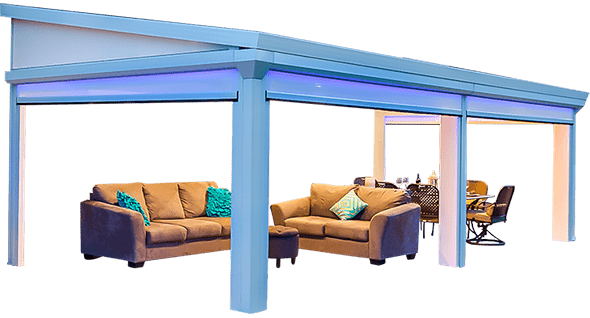 LIFEROOM LUXE
Our most luxurious LifeRoom, the Luxe is equipped with motorized, independently controllable screens, plus integrated LED lighting.

Additional benefits include our Cool Mist climate system that can lower the temperature of your space substantially, and Soft Breeze technology that circulates the air to generate a cool and gentle breeze. Custom sizing available.