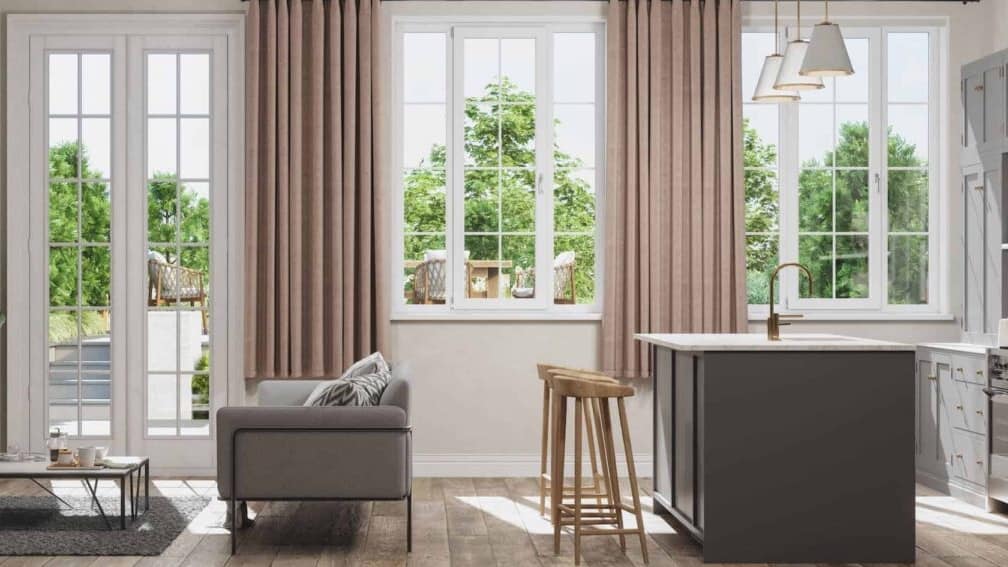 Windows play an important role in your home's functionality, style, and weather protection. If you're noticing more and more drafts entering your home from your windows, or if they're giving you trouble every time you try to open them, it may be time to consider replacement. However, there are a few things to consider before you order a brand new set from a window contractor, with frame material being the top concern. Read on to learn more about all six window materials, as well as some advice on deciphering which type will be the best choice for your home.
Wood
If you live in an older home with original windows, you likely have wood frames. These frames are still a popular choice today, thanks to the natural beauty they provide. They insulate well in both warm and cool temperatures. And with diligent, proper care, they can outlast other window types.
Pros:
Wooden style meshes well with both new and old homes

Can be stained or painted to match interior trim

Offers excellent temperature and sound insulation 

Adds value to your home
Cons:
Wood windows cost more than other varieties

Required maintenance includes cleaning, sealing, and painting/staining

More likely to need replacement if not protected from the weather, as the wood can fade, crack, and rot
Wood Clad
Wood-Clad windows are made of the same, natural wood as the above frames, but they are also wrapped in vinyl, aluminum, or fiberglass for increased weather protection. This decreases some of the need for regular window maintenance while allowing you to keep the style of real wood in your home.
Pros:
Available in a variety of colors and styles to match your home's style

Most types can still be painted for future renovations

Longer lasting than other window types

Easier to maintain than all-wood windows
Cons:
More costly than wood windows

Vinyl pieces cannot be painted

The cladding can pull apart from the wood without proper care
Vinyl
Vinyl windows are most common in newer construction homes, and they serve as a smart replacement choice for homeowners of all kinds. They're more affordable than many window types, and they also offer some of the best weather protection as long as they are labeled Energy Star Rated. Choose between Pure Virgin Vinyl (more durable and longer lasting) and Recycled Vinyl (more affordable) depending on which option better suits your budget.
Pros:
More accessible price point, especially for homes with many windows

No maintenance required — simply wipe clean with your favorite household spray

Lighter and quicker for window contractors to install
Cons:
Fewer design options available

Not paintable or stainable for future renovations

15-20 year lifespan

Lower quality weather stripping and plastic components may wear down or break before the windows need replacement
Aluminum
Aluminum windows mesh well with the style of modern homes. These durable frames can also support large-scale windows, making them a great choice for your plans to renovate and bring in additional natural light. Even with these benefits, they're still available at an affordable price.
Pros:
Available in a variety of colors and finishes

Can be manipulated to fit custom window shapes and sizes

The narrow frame allows for more of a focus on the glass and the view outside of your window
Cons:
Less energy-efficient than other materials

Moisture and frost can form inside of the windows

Additional weather stripping and thermal treatments may be required to improve insulation
Fiberglass
Fiberglass is a newer material in the window world. It's stronger than vinyl and provides a good level of weather protection. Your window contractor may be able to order fiberglass frames in a color that suits your home, or even in a style that resembles wood windows.
Pros:
The core is filled with foam for improved insulation

Less prone to warping, expanding, and contracting

No maintenance required outside of cleaning

The frames are completely recyclable once the time comes for replacement
Cons:
Higher price than other window types

They may take longer for your window contractor to install

UV coating is recommended to increase the lifespan of fiberglass windows
Composite
Composite windows combine the best aspects of several window materials, being made up of wood, vinyl, and aluminum. They are specifically designed for increased weather protection. They can be found in almost any style, including the natural wood look.
Pros:
Far less likely to rot, warp, or fade

Lifespan of around 40 years

The materials are eco-friendly
Cons:
Much higher price point

Insulating properties vary by product, with some outperforming vinyl and others matching its properties

Future repairs could potentially be more difficult and/or costly
Though a multitude of window materials make it easier for us to find a product that matches all of our wants and needs, it can also make the decision process feel more complicated. If you're looking for more information, check out our windows page. Also feel free to contact us with any questions, or to schedule a complimentary consultation from our team of window contractors in Madison, WI and the surrounding area. We'd be happy to help you however we can.