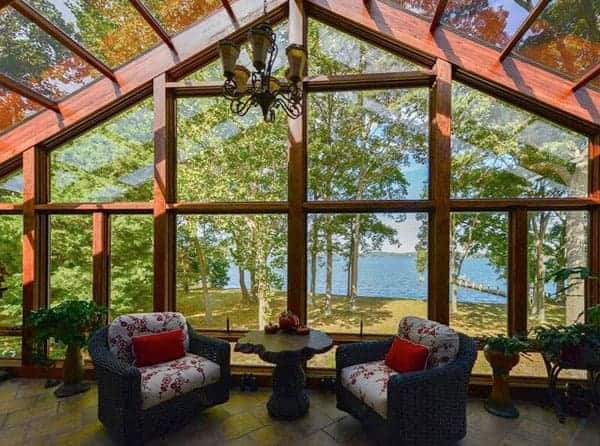 In this episode of Behind the Studs, Amanda Alexander from our design team talked about Four Seasons Sunrooms products.

Four Seasons Sunrooms is a company that manufactures many of the amazing products we offer at Legacy Exteriors — including pergolas, sunrooms, 3- and all-season rooms, or a nice screen porch that can be upgraded down the road if the homeowner desires.
Today, we're focusing on two of the major points Amanda discussed in the episode:
1. How virtual 3D renderings, along with getting to know our customers, helps us create room additions that are a perfect fit to an existing home.
2. The benefits of Four Seasons Conservaglass™ NXT with Stay-clean technology.
Virtual 3D Renderings
Room additions onto an existing home don't need to look like a "new wing" of the building. In fact, one of the things that sparks Amanda's creativity is answering the question, "how can we make this room addition look like it's always been part of this home?"

Many things go into the design process to ensure that the new room addition is a perfect fit for the home — and the homeowner's style. Amanda begins the process by getting to know the homeowners and understanding exactly what they are looking for. And when homeowners aren't quite sure of what they're looking for? That's totally OK, too, because through the discovery process Amanda is able to help homeowners figure out what they do and don't like regarding their home addition by actually showing it to them virtually!

Whether the room addition is a sunroom for sipping coffee, or a liferoom for entertaining at night, Amanda is able to mock up the room virtually. And with the use of a QR code she can show you the room addition, in real time, on your phone. What's amazing about this technology is that it shows you exactly what your new room will look like before we build it —  to make sure you absolutely love it! According to Amanda, "you can see the structure as if it were on your actual property, and this really helps people understand what the new room addition will look like, as opposed to having to visualize it in their minds."
This all adds up to a room addition that's a perfect match to the rest of your home.
Conservaglass™ NXT
The Four Seasons Sunrooms company is well known for making beautiful, durable sunrooms that bring years of enjoyment. One of the many benefits of these sunrooms is Conservaglass™ NXT windows that offer stay clean technology. 
Here's how it works …
Conservaglass™ NXT was designed specifically for the extreme demands of a room built entirely of glass utilizing the most advanced glazing technology available. Conservaglass™ NXT helps make our sunrooms cooler in summer and warmer in winter — even here in Wisconsin. And, its advanced construction techniques promise a lifetime of outstanding performance.

At Legacy Exteriors, we use stay clean technology glass that's made locally in Spring Green, WI, by Cardinal Glass. The coating on the glass creates a smooth surface that's slightly tinted. This surface is so smooth that, when it rains, any dirt just washes off the windows — making the glass virtually maintenance free!
Have questions, or want to schedule a complimentary consultation? Feel free to contact us anytime. We'd love to talk with you!
Listen to the Behind the Studs episode here …