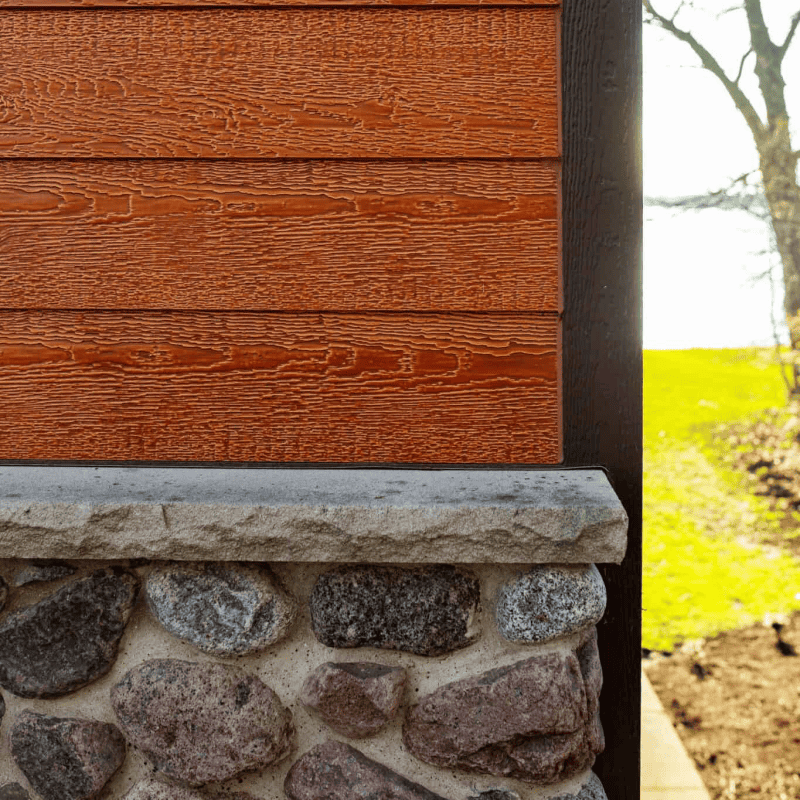 In this episode of Beyond the Studs, Legacy Exteriors owner, Josh Gauwitz, shares insight into the hottest exterior home trends, from popular colors, to textures and even some of the best material suppliers. Whether you're planning to sell your home soon or looking to make a few upgrades for yourself, the following tips can help.
What Exterior Colors are Currently Trending? 
Recently, there's been a shift from homeowners wanting a light and airy feel to a darker, statement look. This is especially true on the exterior of homes.
"Dark grays and dark blues are extremely hot right now. If you go into newer subdivisions, you're going to see those dark colors on homes, as well as if people are doing remodels." Josh states that for people who are looking to sell their homes in the near future, dark siding could be more attractive to homebuyers.
And if you want to ride the trend but protect your home from quickly becoming outdated in style, try dark blue. "Blue is a timeless color choice."
Even with dark colors trending, such a change in shade can be hard to imagine for some homeowners. To help you decide if the dark exterior trend is right for you and your home, Legacy Exteriors can put your house into a 3D imager, allowing you to experience the color you're leaning toward while you're still in the planning stage of the process.
Popular Options for Shingles, Trim, Fascia, and Soffit
For those who are diving into these dark colors on their home's exterior, lighter accents are typically the top choice. "To really make (the colors) pop, you can pair them with a lighter color of trim, soffit, and fascia." Bright white is a popular option for trim packages right now. You can also choose a lighter shingle shade to create additional contrast, though some homeowners are extending the dark color trend to include their roofs.
Adding Texture to Your Home's Exterior
Texture is being used to customize home exteriors. Materials can be mixed on both siding and trim. For example, on his own home, Josh is currently having a bold red, LP SmartSide siding installed. For his windows, he's going with the ever-popular white. But to add personalization, he's using a variety of materials. 
"We're doing some lap, we're doing some board and batten on some bump outs and peaks, and we're also doing some shakes." 
Josh states, "That's another one of the hot trends — mixing and matching materials and giving the home a 'one of a kind' feel."
Protection for Your Trending Home Products
No matter the trend, it's important to consider a product's warranty before having it installed on your home. The materials that Legacy Exteriors carry offer top-notch warranties. LP SmartSide and James Hardy have even offered the company custom warranty packages for increased client protection.
"In this business, relationships are extremely important. We've been doing this for almost 20 years now, and we've specifically chosen the products we carry because they can only be as good as their manufacturer." 
Choosing a company that has solid relationships with material suppliers can also impact the products that are available to you. Specifically, this can help when customers want specialty colors that are not in their stock collection. 
"We've picked manufacturers that are truly going to stand behind their warranty as much as we stand behind our craftsmanship warranty."If you have any questions about current trends or want to get started on your own exterior home updates, contact Legacy Exteriors today. We'd love to work with you in every stage of your renovation.
Listen to the episode here …