METAL ROOFING OFFERS UNMATCHED DURABILITY & LONGEVITY
Metal roofs are a premium product. They cost more than asphalt shingles because of their superior lifespan, along with the fact that steel roofing protects from fire, wind — and even sun damage. As always, we ensure our roofs are energy efficient, so your A/C won't cost you an arm and a leg.
No other roofing material can offer a 50+ year lifespan. Plus, steel roofs provide a level of certified safety that prevents damage.
LIFETIME WARRANTY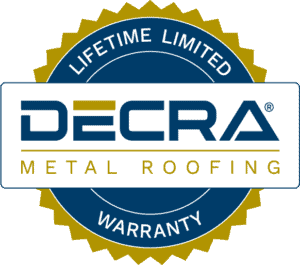 Unsurpassed in strength, durability, and longevity, only DECRA can offer the most comprehensive Lifetime Limited Warranty in the industry. Resistant to wind, hail, fire, freeze, and earthquake, DECRA metal roofs outperform other roofing materials in every category.
SOPHISTICATED STYLE
Breathtaking designs are what you see at first glance, but underneath are layers of pure protection. DECRA comes in a wide range of tasteful styles, colors, and textures that suit the most discerning of tastes — each backed by the unmatched strength of DECRA steel.
What makes DECRA's Lifetime Limited Warranty the most comprehensive in the industry?
Wind, rain, hail, snow, and even dry sunny climates all take their toll on conventional roofing materials. The heaviest architectural shingles are typically rated for wind resistance between just 60-110 mph. Clay tile and wood shakes are so prone to wind damage that they aren't rated at all, and even fiber cement products are only rated up to 75 mph. DECRA stone-coated steel is unsurpassed for durability, with a UL 2218 certification for Class 4 impact resistance against hail penetration and a wind warranty for up to 120 mph.
STANDING SEAM METAL ROOFING
Standing Seam Metal Roofing is a type of roofing that has been popular for many years. This roofing option is typically made with aluminum and can last up to 50 years without needing any major repairs or replacements! Standing seam metal roofs come in a variety of colors, including: bronze, brown, green, and silver, and can also have the option of being textured so they look like shingles on your house! Standing seam metal roofs are often quite expensive but they offer great value over time which makes them an excellent investment for homeowners. If you're looking to buy standing seam metal roofing then please contact us today and we'll be happy to help you find the perfect fit for your home!
THE BENEFITS OF METAL ROOFING
Long Life Span
Our metal roofs can last up to 50 years, while asphalt roofing has an estimated life expectancy of 20 years, on average.
Incredibly Durable
Metal roofs can withstand wind gusts that exceed 100 miles an hour, and they're practically maintenance free. They won't corrode or crack.
Safety
In the occurrence of wildfire or a lightning strike, a metal roof does not spark or ignite.
Energy Efficiency
Metal roofing reflects UV and infrared light from the sun that can yield, on average, a 10 to 25% reduction in cooling costs.
Eco Friendly
Metal roofs contain anywhere from 25-95% recycled content, depending on the manufacturer, which makes them environmentally friendly. In addition, they're 100% recyclable!