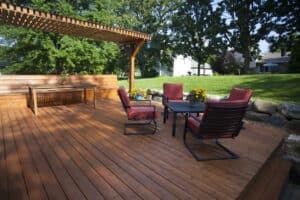 Spring is finally here, and as the weather warms up it's time to start thinking about spring cleaning your deck.
In order to get the most enjoyment and longevity from your deck, we'd like to share six tips to help you prep your deck for spring — and beyond …
We'll be talking about two different types of decking materials in this article:
Traditional wood decks, which are made of natural wood
Composite decks, which are made of wood and plastic
Let's begin with our tips on how to prep your deck for spring.
1. Swab the Deck!
Make sure your deck is free of all debris, water and other remnants from the winter months. If you stored your furniture or your grill on the deck, be sure to move each item so you can clean those areas of the deck, too. Be sure that the slots in-between the boards are clear, so any water can easily drain. This first step not only ensures a clean deck, it also prepares you for our next tip …
2. Deck Inspection
Once your deck is clean, give it a good once over to see if everything looks OK. With a wood deck, you'll want to check for things like rot, splintering, cracking warping, loose boards, and loose nails. With composite decks, the biggest things you'll want to look for are mold and mildew. With both types of decks, it's also recommended to inspect your stair stringers to make sure they're not warped.
3. Wash Your Decking
When cleaning a wooden deck, a power wash — set to the lowest pressure setting that still provides effective cleaning — is an option. If you're not experienced with using a power washer, it is recommended to speak with or hire a professional to do the job. There are a lot of factors that go into a safe power wash, including the type of tip you use as well as understanding the correct pressure to use based on the type of wood your deck is made of.
With composite decks, it's advisable to avoid power washing. Instead, use a more simple method like water and a mild soap (like dish detergent) and a soft bristle brush. You can also use a deck cleaner that's made for your type of composite decking.
4. Make Repairs
Whether you make repairs yourself, or hire a professional to make repairs for you, it's important to address any issues you've found ASAP so they don't exacerbate or cause an unsafe space.
5. Protect that Deck!
If you have a wood deck, once everything is clean and repaired, it's time to protect your deck with a fresh stain or sealant. This, of course, adds aesthetic value and also ensures protection from UV rays that can destroy decking materials over time. And remember, the darker the stain, the better UV protection.
If your composite deck has begun to fade, or if you'd like the deck to be a different color — just know that some composite decks can be painted or stained and some can not — so check with your manufacturer or installer to determine which kind of composite deck you have.
6. Keep Your Gutters Clean
Clean gutters keep water and debris off of your beautiful deck, which can go a long way in preventing future issues. And if you don't have them, gutter guards are also something to consider.
We hope these tips help you maintain and enjoy your deck. If you need assistance with deck or gutter repair, or would like to discuss having a new deck built for your home, feel free to contact us anytime to discuss things further.