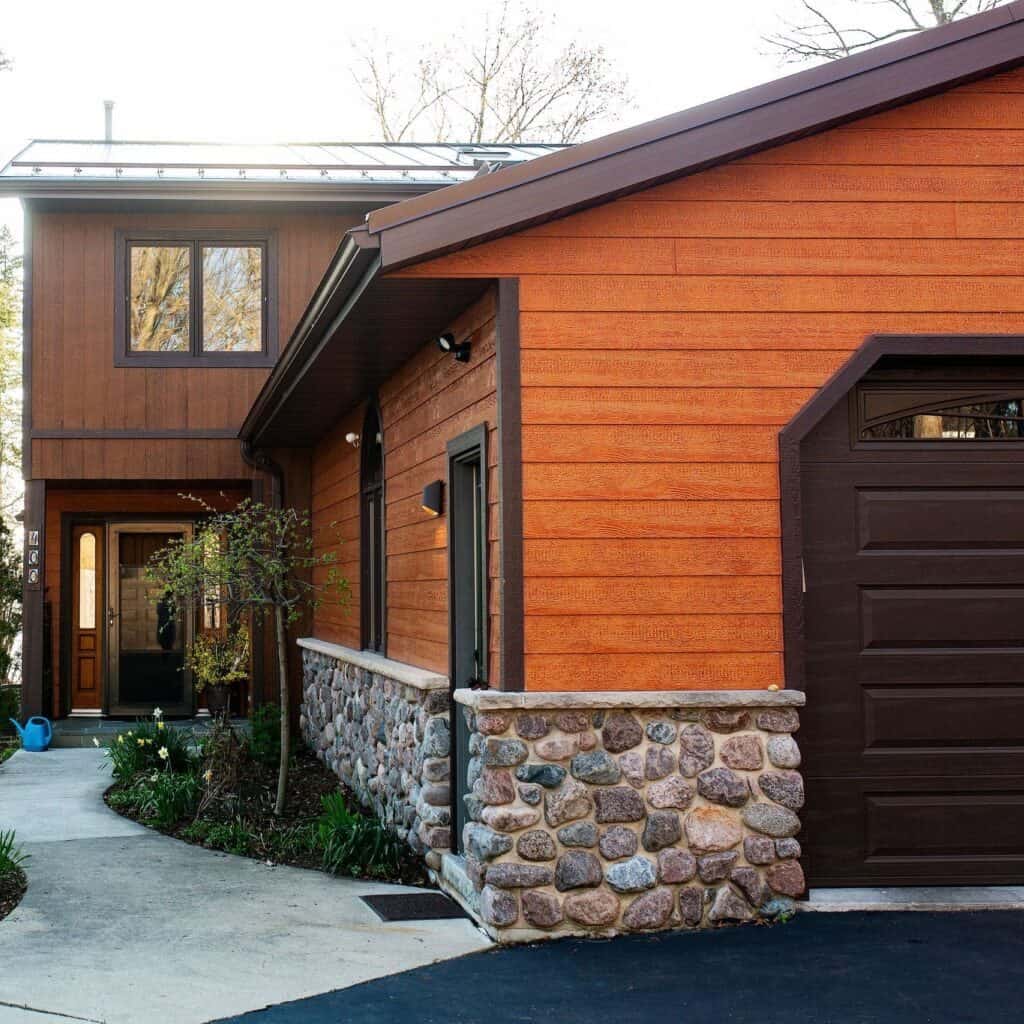 In this episode of Beyond the Studs, Legacy Exteriors owner, Josh Gauwitz, dives into siding for residential homes, and the many choices that come along with it.
The first question is do you need new siding, or siding repair?
"When it comes to repairing vs. replacing siding, we first need to determine what the homeowner wants. If the first choice is repair, then we assess the damaged area(s) of the siding and make an honest recommendation as to whether or not it can be repaired," says Josh. 
When it comes to customer service, Josh believes in, "providing what is in the best interest for our customers, which means we don't push for new siding if it's not necessary. In fact, we have a repair department of service technicians that specialize in repairing siding, gutters, roofing and windows."
Understanding your siding choices …
If you are considering new siding, there are a lot of options to choose from. Let's dive into some of the details to help clarify what might be the best type of siding for your home — and also help you determine what to look for in a siding contractor. The first point of discussion with a potential contractor is to make sure they are fully certified and licensed.
Vinyl Siding
To begin, there are two major types of vinyl siding:
Traditional Vinyl Siding,

which is more affordable than insulated vinyl siding. It's a great, low-cost way to improve the value and look of your home.

Insulated Vinyl Siding

is a bit more expensive than traditional vinyl siding. That said, because it's insulated, it can reduce your electricity bill — saving you money in the long run.
There are multiple brands of vinyl siding, as well as many levels of siding. According to Josh, "a lot of people don't realize how many different 'levels' there are. If you're wondering what the term means, levels (for the most part) come down to the thickness of the vinyl siding. You could choose a .50, which represents a thicker vinyl siding, or you could go all the way down to a .40 — and there are about 5 different options in-between!"
In addition to choosing between levels, there are also lots of choices with color.
At the end of the day, vinyl siding is the most economical way of siding your home, although depending on which type, manufacturer and level you choose, there are different price points.
With vinyl, there is some maintenance involved, like an occasional power wash.
That said, there are other siding options that provide different aesthetics, and also require more or less maintenance …
Cement Siding
Made of cement, sand, water and fiberglass matting, cement boards are a great alternative to brick or stone. Durable and low maintenance, cement board siding can be installed horizontally, vertically or diagonally, and the siding comes in different colors.
As a point of reference, at Legacy Exteriors, we exclusively use James Hardie Cement Siding, which is simply the best cement siding out there. Lightweight, and easy to install, a couple of its many qualities are durability and a 30-year, non-prorated, transferable warranty.
Composite, Wood, & Hardboard Siding
Composite siding
Made from a combination of plastic, fibers, and minerals, composite siding offers the look of natural wood without all of the maintenance. Resistant to insects, rot and warping are some of the qualities that make this siding so popular.
Hardboard siding
When it comes to hardboard siding, we use LP SmartSide, which is the best in the industry. Durable, flexible and low maintenance — it's also available in an array of colors. It's constructed of engineered wood layers that bring together natural wood with a proprietary formulation of resins, waxes and zinc borate. Homeowners also love the industry-leading 5/50-year limited warranty.
Wood siding
Beauty, value, and the ability to use wood siding outside and inside your home are some of the main benefits of this type of siding. Created by pressing thin sheets of wood together with glue or resins, it can be stained, painted, sealed, or left unfinished. That said, wood siding is high maintenance.
Customization
During the episode, Josh shared some of the many ways he and his team customize the siding on a home, and why homeowners should never settle for cookie cutter solutions …
Josh tells us, "siding can be customized, and one of the popular ways we do this is by mixing and matching materials. Maybe the homeowner wants an upgraded vinyl look, so we might include some LP Smartside trim in conjunction with the vinyl. Or we'll add different textures, or possibly add some shakes in the peak. We love doing these types of design features because it really captures what the homeowner is looking for and we avoid cookie cutter design."
3-D Rendering
Josh goes on to say, "one of the great things we can do is show homeowners what the finished product is going to look like before we start the work. We do this by taking photos of the home, and then load those photos into our 3-D imaging software. Then we can really play with different styles, colors and designs. Customers love the fact that we can customize the design and show it to them so they get a very clear idea of what things will look like. And if they want a change? No problem, we just mock it up in on the computer and present it. The ability to be fully customizable like this, and be so nimble in making tweaks to the design, really adds to the uniqueness of the project."
Learn more about siding …
Just click on any of the following siding types to learn more about them:
You can also contact us anytime to schedule a complimentary consultation, or just ask a question. We'd be happy to speak with you!