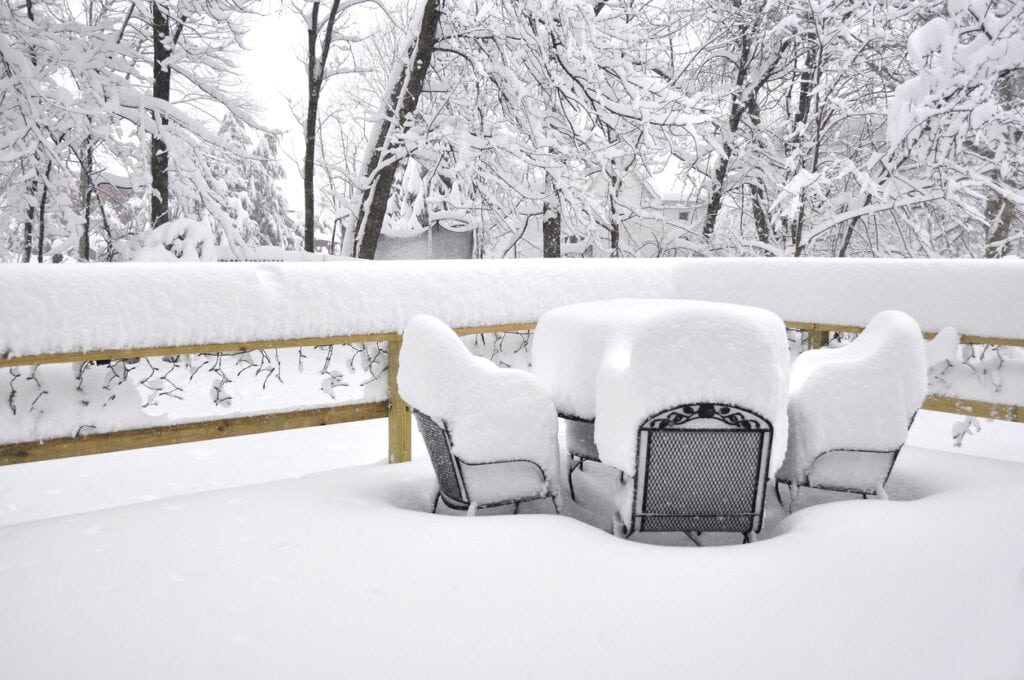 Winter in Madison can be brutal! The fierce cold, snow, and ice makes your deck vulnerable to the elements. Without proper protection, your deck can suffer unnecessary wear and tear, resulting in repairs and even replacement.
As professional deck builders, we don't like to see any deck owner experience this kind of damage! That's why we want to share 5 tips for winter proofing your deck. We've found these strategies to stand up to the fierce winters here in Wisconsin.
1. Remove Debris, Leaves, & Dirt
Fallen leaves, pine needles and dirt build up over time and get down in between the floor boards. When bad weather hits, snow and ice then lock in moisture, causing structural damage to your deck. That's why we recommend thoroughly removing all debris before you do anything else.
2. Clean Your Deck of Mildew
Once you've removed all the debris,  clean your deck of any mildew accumulation. If you leave it untreated, the mildew becomes slippery, and that's a fall hazard.
Check Lowe's for a product that combats mildew. Or you can make your own using this  formula: Use 3 quarts of hot water, ¼ cup of ammonia-free liquid dish detergent, and 6 dry-measure ounces of powdered certified organic bleach.
Stir it all together until the powdered oxygen bleach dissolves. Then apply a liberal amount to the surface of your deck with a hand pump garden sprayer. Let the solution sit for about 10-15 minutes before scrubbing it lightly. Rinse well.
One word of caution. Don't use chlorine bleach! In fact, don't use any product that contains sodium hypochlorite. It's toxic to trees and vegetation. And, it can accelerate corrosion of your deck fasteners as well as any metal structure connectors. Steer clear!
3. Avoid Deck Rot: Seal & Finish 
One of the best ways to protect the lumber from Mother Nature's harsh winter weather is to seal and finish it. Without this layer of protection, your deck will be much more vulnerable to moisture, causing it to crack, warp, splinter, and even rot. And rot is not something you want to deal with.
Deck rot can destroy the strength and integrity of your deck, along with encouraging pest infestation.
So, seal your deck using certified organic oxygen bleach. Always follow label instructions and pay attention to guidelines about low temperature application.
4. Cover Your Deck with a Tarp
Before snow and ice arrive, cover as much of your deck as possible with a tarp. This added protection will help to keep the wood from warping. It also has the added benefit of keeping moisture from between floor boards, helping to prevent structural problems.
If you have any cracks, the tarp will help to reduce the risk of ice formations in the cracks, which could make the cracks worse.
5. Salting Your Deck: Use Caution
If you don't cover your deck with a tarp, you may use salt to melt the snow from your deck. However, we urge caution.
If your deck is an older composite deck, rock salt or calcium chloride can be used but should be removed as soon as possible!
And wooden decks? Consider skipping the salt treatment. Salt and ice melt can cause harm to some deck finishes. That means more work in the spring, restaining discoloration. 
As long time deck builders, we encourage you to seal, stain, and cover your deck for the best weather protection.
When spring rolls around, you'll be glad you won't have the extra work of repair or restaining!
Want to learn more about decks?
If you're looking to replace your deck, or just want to learn more about the different types of decking materials that are available, you can check out our decking page. Or, feel free to get in touch with us anytime to set up a complimentary consultation!