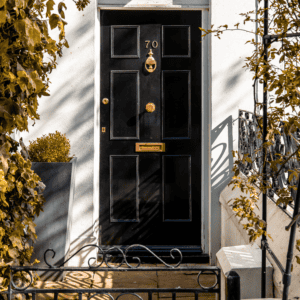 In this episode of Beyond the Studs, Josh Gauwitz — owner of Legacy Exteriors — explains how your home's front door can make a lasting impression and boost curb appeal. He also describes the stunning options available from Provia, and shares how their advanced design tools empower homeowners to create truly unique entryways that transform their homes.
Here's what Josh had to say…
Today I want to talk about something that we've never talked about before and that is doors.
You probably don't think much about doors unless you're a contractor doing door installations day in and day out, but they say a lot about your home. Your front door is one of the first things guests notice when they approach your house so they can leave a lasting first impression and increase curb appeal.
We carry lots of different brands at Legacy Exteriors but our preferred brand is Provia because we love their design and quality. Their Embarq series, for instance, is top-of-the-line. It includes the most energy-efficient door in the United States and you can have it made to look like any wood you want – cherry, mahogany, oak, you name it. Then you have countless stain options to choose from.
Provia also carries three fiberglass lines, and steel doors as the most budget-friendly option. The Legacy steel doors are manufactured with 20 gauge steel so they won't rot from the inside out like many older steel doors used to. No matter your budget or design preference, you're bound to find something that fits.
Once you've selected your door, you're gonna want to customize it to match the facade of your house. Provia is great for this because the website walks you through every single design option so you can create something completely bespoke for your home. You can choose, what colors the hardware should be, what type of glass…you can even customize the design of the glass cutouts. There's no limit on what can be done so your door can truly be one-of-a-kind and that makes a statement. Of course, if you prefer, we can also walk you through this process — but some homeowners like to dive into the design aspect themselves and present to us.
If you want to design a custom Provia door for your home, what we'll do is we'll take a picture of the front of your house. Once we have that, we'll go into Provia's design app and mock it up using the preferences you selected on the Provia website. When the design is finished, we can photoshop it onto the facade of your home so you can get an accurate picture of how the door fits with the rest of the house before you commit to it.
There are so many fun options. We try to empower our customers to be bold and embrace their creativity. And it seems to be working. 
One woman recently designed a nine-foot-tall door with a woodgrain exterior and a translucent red stain. I was thinking to myself, I'm so so sure about this…But when that door came, it was honestly one of the most beautiful doors I've ever seen in my life.
That's the cool thing about working with all this new technology at our disposal. We have decades of experience building and remodeling thousands of homes, yet these tools get homeowners actively engaged in the design process. It's also made us better designers.
Of course, there's more to your facade than just the door, and door installation is the best time to update those finishing touches that can set your home apart.
Typically, when people are getting a new door, they want to dress up the entire entryway and one of the ways we help with that is by using Fypon products. They have a ton of different window and door trim options from simple, elegant designs to the more complex and architectural. They also have pediments, balustrades, columns, and other design elements that lend an air of craftsmanship to your home.
Actually, the American Craftsman-style door is one of the most popular options we have right now. But with all this customization available now, we can empower our customers to pick elements that they like and design something unique. So you can pick a Craftsman-style door, add a transom, select some pillars, and boom! Your entire entryway has been transformed. Best of all, you can test what it looks like before paying a cent with our cutting-edge design software. 
That's the best part about working with our team. Once we take those eight pictures of your home, we have everything we need to not only put together an estimate but also to ignite your creativity. Then, together, we can design something you'll love. 
If you'd like to learn more about how we help Madison homeowners design the homes (and doors) of their dreams, we invite you to book a free consultation with us today.
Listen to the full Beyond the Studs episode here …