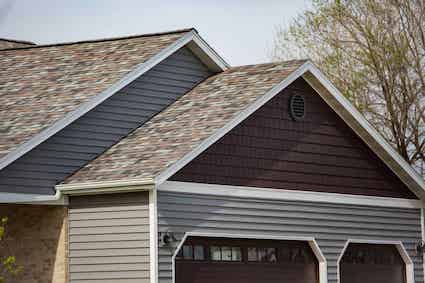 In this episode of Beyond the Studs, Josh Gauwitz — owner of Legacy Exteriors — explains how we earn our customer's trust with our "no-bid-on-site" approach and why you shouldn't wait until snow falls to wonder if your roofing will make it through the season.
Here's what Josh had to say …
With the 90-degree weather we've been having, it's easy to forget that winter is coming. But autumn is here and that means it's time to reassess that roofing project. 
Fall is the perfect season to talk to a roofing contractor because we typically have moderate temperatures and fewer severe storms. The problem is that most people wait until spring in the hopes that they can make it through one more winter.
If your roof is in poor shape and needs replacing, do not wait! Addressing potential problems now could save you hundreds or thousands down the road. All too often, people postpone home repairs because they anticipate a hefty price tag or pushy contractors. But here at Legacy Exteriors, we work with you to find the best solution to protect your investment without breaking the bank.
We believe the contractor-customer relationship has got to be built on trust. And it's hard for contractors to earn that trust when all that consumer is thinking about is the pressure that is going to be applied. So we eliminate that from the equation right off the bat. 
There is no bid given on the spot. We take the pictures of the house, get all the measurements, put that house into 3D imaging, and all that fun stuff. Only then do we create the bid. It's extremely detailed. And hopefully, it answers a lot of questions. There are always going to be questions, but as long as we can cover as much upfront and show that we're hearing all those homeowners' needs, then we can start on a foundation of trust.
Unfortunately, many of our competitors aren't afraid to use the high-pressure sales tactics that are so common in our industry. I think that's why people are afraid to go through the bidding process: because they hear all the horror stories. No one wants to feel attacked or manipulated when they're just trying to gather information and plan their dream home.
I always tell people they should get bids from multiple exteriors companies so they can make a fair judgment call. Plus, you might have an idea in your head about what you want for your home. But then you get an idea from this person and another from that person until you can combine these expert opinions with your personal preferences to design a custom solution that is best for your home and your family.
That's what we aim to do here at Legacy Exteriors – empower you to build your dream home whether you work with us or not.
If you'd like to learn more, you can visit our roofing page. Or you can book a no-pressure, free consultation with us today and we'll work with you to come up with a plan that keeps your roof in tip-top shape without breaking the bank.
Listen to the full Beyond the Studs episode here …