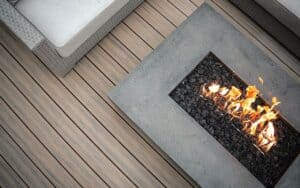 A well-constructed deck can be the heart of your yard, offering a place to relax, entertain, and connect with nature. But choosing the perfect decking material can be overwhelming when there are so many options. 
In this blog, we'll take an in-depth look at AZEK decking: its advantages, drawbacks, and how it stacks up against its competitors. Whether you're a homeowner embarking on a DIY project or working with experienced deck builders, understanding the features and limitations of AZEK decking will help you make an informed choice.
What is AZEK Decking?
AZEK decking is a premium alternative to traditional wood decking and is often associated with composite decking, though it's not truly a composite material. Instead, AZEK decks are crafted from solid polyvinyl chloride (PVC), the same material used in vinyl siding. This unique composition grants AZEK decks exceptional strength and durability while requiring little maintenance, making it a favorite for homeowners (especially those in harsher climates).
The Benefits of AZEK Decking
Durability:

AZEK

 decking is engineered to resist rot, mold, warping, and splintering. Its sturdy composition ensures that it stands the test of time, even in harsh weather conditions.

Low Maintenance:

Unlike traditional wood decks, AZEK decks require minimal upkeep. They are stain, fade, and termite-resistant – not to mention, splinter free! – eliminating the need for sanding, sealing, staining, or painting.

Variety of Options:

AZEK

 offers a diverse range of colors and wood grain patterns, allowing you to customize your deck to match your preferred aesthetic.

Longevity:

With an industry-leading 50-year warranty, AZEK decking promises an extended lifespan, providing peace of mind for years to come.
The Drawbacks of AZEK Decking
Cost:

AZEK

 decking is known for its high quality, which comes at a premium price point. However, the long-term benefits and minimal maintenance outweigh the initial investment for many homeowners.

Warping:

Humidity and extreme temperatures may cause AZEK's PVC composite to expand and contract, which can eventually lead to cracking. Proper installation can mitigate these risks, but if you live in an extreme climate – or if you're planning to build a deck for your hot tub – you will want to consider this.
How Do AZEK Decks Compare?
Countless other composite decking materials offer their own advantages, but compared to AZEK, there are really only two that come close: TimberTech and Trex. 
It's worth noting that AZEK and Timbertech are owned by the same parent company, CPG International, so you may see AZEK under the name "TimberTech AZEK" (as compared to TimeberTech Pro).
Now, let's dive in!
AZEK vs. TimberTech vs. Trex: A Comparison
AZEK vs. TimberTech:

Both AZEK and TimberTech offer exceptional durability and low maintenance. AZEK boasts a solid PVC composition, while TimberTech combines composite materials with PVC for added resilience. The most significant difference between these two is that AZEK is lighter in weight because it does not use wood flour or wood fillers. This makes AZEK easier to work with.

AZEK vs. Trex:

Trex is renowned for its environmentally friendly composite decking, which is composed of 95% recycled materials. While both AZEK and Trex are low maintenance, Trex has a more natural appearance due to its composite composition. 
Our Verdict: All Hands On AZEK Decks!
Picking the right decking material involves careful consideration of your priorities, budget, climate, and aesthetic preferences. While AZEK's initial cost might be higher, its long lifespan and minimal maintenance can justify the investment over time.
Working with experienced deck builders can further guide you in choosing the best material for your project. Schedule a free consultation with us to learn if AZEK is the best choice for you. Together, we can tailor a plan that transforms your deck into the centerpiece of your yard, and the site of fond memories for decades to come.