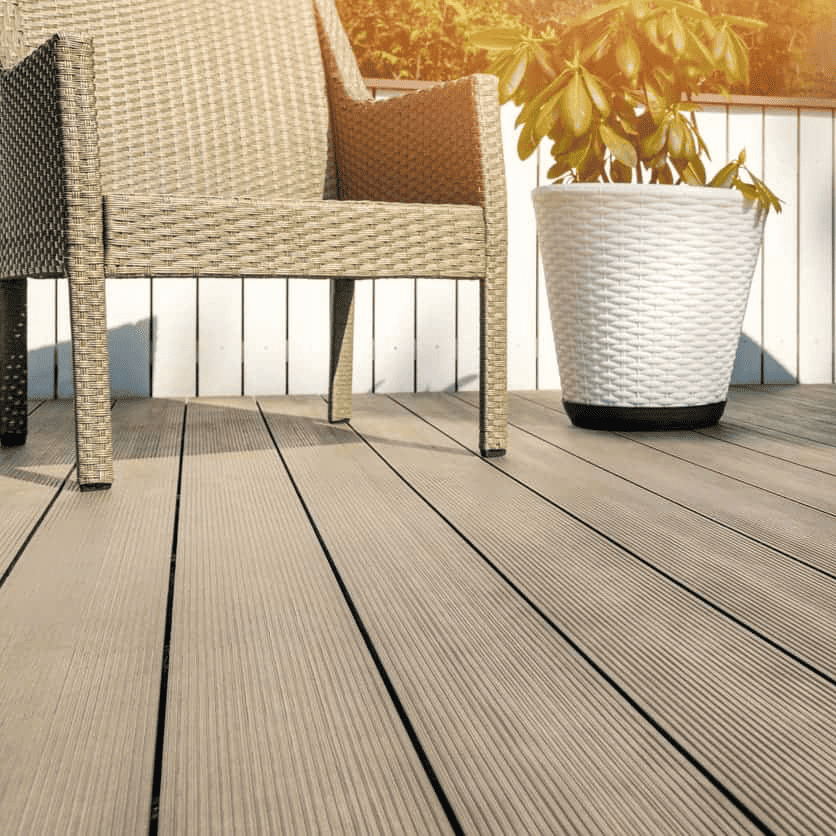 You're ready to install a new deck on your home. But which material is right for your project? Today's deck builders use both wood and composite materials. Each of these offers a unique set of pros and cons surrounding cost, appearance, longevity, sustainability, and required maintenance. Below, you can learn more about each of these areas to make an educated decision on materials for your latest home project.
The Costs of Composite vs. Wood Decks
Cost is often the first factor that you'll notice when you start to look into deck materials. In general, composite decks have a higher up-front price tag. However, it isn't always as extreme as you might think.
The cost of composite materials is fairly stable, while wood prices fluctuate often (especially in recent years). Hard or exotic woods are also priced higher than woods like pine, and may fall near or over the cost of composite boards.
The longevity, which we'll dive into in more detail below, is also important to keep in mind. Composite decks typically outlast wood decks by many years with little to no maintenance. If you have the budget upfront, you may want to compare prices in a year-over-year fashion instead of the upfront dollar amount.
Appearance
Some individuals prefer the natural look of real wood, while others like the clean and sleek style that comes with composite decking. But there's more to the appearance of decking materials than what you see at first glance.
One example regards future renovations. In 5-10 years, will you be working on the exterior of your home and want to change the color of your deck? Wood boards are easy to sand and stain or repaint, but this isn't always the case with composite. 
Materials that are made with plastics may not be paintable or stainable. In this case, you'd need to replace your entire deck to update the color. But newer composite materials like wood plastic composite, mineral-based composite, and cellular PVC can all be painted or stained, and they also offer a more realistic wood look.
Longevity
How long will your deck last and what will you need to do to maintain its condition throughout the years? Let's start by looking into wood decking. Wood decks typically last 10-20 years. Regular maintenance can increase the lifespan of your materials. You can also extend the life of your deck by choosing pressure-treated lumber or a longer-lasting wood like cedar.
Maintenance includes staining or painting and sealing your deck every few years. This process helps to lock out water and even minimizes the potential of insect and/or rodent damage, but it  can be time consuming and sometimes costly.
Composite decking lasts between 20 and 30 years and typically requires less maintenance. As mentioned earlier, some types of composite decks can often be stained or painted, but this is not required for upkeep. It's naturally resistant to both water and pest damage. One thing to keep in mind, however, is scratching. If your composite boards scratch they may need to be replaced, compared to the ability to sand down and refinish wood deck boards.
Some other details to consider: wood decks can splinter, which is something you'll need to watch for with young children and pets. Composite decking will not splinter, but unless your product offers cooling technology, it will get much hotter in the sun than wood.
Sustainability
Some individuals prefer the sustainability of wood decks. Types of woods without toxins can be chosen for the most natural approach. However, composite decking has improved in sustainability in recent years. Most varieties are fully recyclable when removed.
Both wood and composite decking come with their own benefits. It's important to weigh the pros and cons of each type in your own life while making your choice.
Want to learn more?
If you need additional help deciding which type of decking material is best for you, feel free to check out our decking page. You can also contact us to ask questions or to schedule a complimentary consultation. We'd love to help however we can!