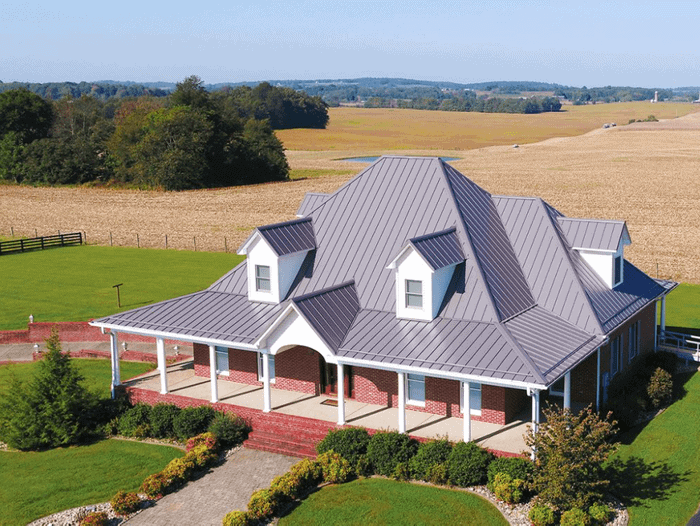 When it's time to replace your roof, it's important to understand what your options are so you can weigh out which type of roofing is best for your home — and your budget.
At Legacy Exteriors, we install three kinds of roofing: asphalt, metal and rubber.
That said, today we're going to focus on the benefits of metal roofing, to give you a solid idea of what you can expect if you choose this type of solution.
Let's start off with a quick definition …
A premium product, metal roofing has a higher cost than asphalt shingles. It also has a much better lifespan, as a metal roof can last for up to 50 years or more.
We often install standing seam metal roofing systems, which are a type of roofing that is made of aluminum, and can last up to 50 years without needing any major repairs or replacements. A standing seam metal roof has interlocking panels that run from the ridge of the roof to the eave. 
THE BENEFITS OF METAL ROOFING
COLOR OPTIONS: Standing seam metal roofs are available in colors like : green, brown, bronze and silver.

LONG LIFE: With the ability to last up to 50 years or more, a metal roof lasts considerably longer than an asphalt roof, which has an estimated life expectancy of 12-20 years. As you may have guessed, with this longevity comes …

DURABILITY: Another benefit of metal roofing is the amazing durability it offers. A metal roof can withstand wind gusts of 100+ MPH. And they're virtually maintenance free. As long as they're installed correctly, they won't

corrode or crack over time.

LIGHTWEIGHT MATERIAL: Surprisingly, even with the durability and longevity that comes with a metal roof, they're actually remarkably light!

EFFICIENT, EASY INSTALLATION: A fast, easy installation process is another one of the benefits of metal roofing. One of the reasons for this is the fact that most metal roofing materials come in 12- to 36-inch-wide panels that can be easily handled and installed because of their size and weight.

SAFETY: Metal roofing does not spark or ignite from wildfire or a lightning strike.

FUNGUS- & MOSS-PROOF: Unlike asphalt shingles, a metal roof is not prone

to mildew, moss, and fungus.

ENERGY EFFICIENT: A metal roof

reflects UV and infrared light, which can yield (on average) a 10 to 25% reduction in cooling costs.

ENVIRONMENTALLY FRIENDLY: A metal roof contains anywhere from 25-95% recycled content, and they're 100% recyclable, too.

This is in stark contrast to "shingle tear-off waste," which can cause up to 20 billion pounds of waste per year.

SOLAR FRIENDLY: Sticking with the environmentally-friendly theme, another benefit of a metal roof is the fact that installation of solar panels is easy. 

EXCELLENT RAIN AND SNOW SHEDDING: For us Wisconsinites, improved rain and snow shedding is a very popular benefit, indeed! This occurs because the hard, slippery nature of a metal roof makes it easier for snow and rain to slide right off. 
Want to learn more?
Feel free to contact us anytime to schedule a complimentary consultation, or just ask a question. We'd be happy to speak with you!